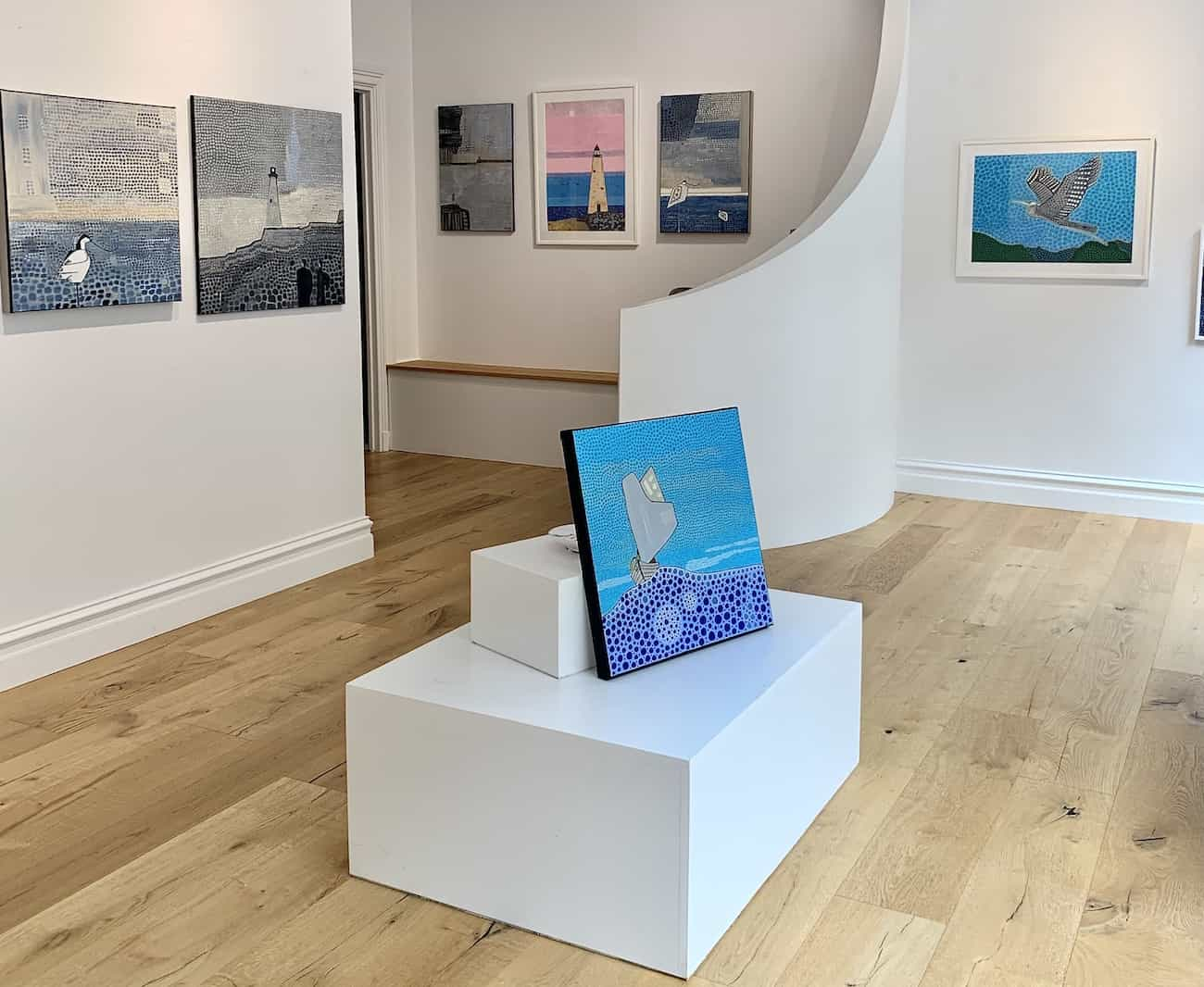 Mot ny destination
(Towards a new destination)
"I love animals and the nature, and they are often represented in my paintings, with much fantasy and comical expressions.
When I was young, and the arts and painting came into my life I would never paint birds.
..You should never say never.."
Throughout September Lindberg-on-Sea Art Gallery presents the solo exhibition 'Mot ny destination' ('Towards a new destination') by the artist Viviannne Otsa.
A solo exhibition in which Vivianne with her pointillistic paintings wishes to create a balance between humor and gravity – a tribute to life which should never consist of either or, but should be allowed both.
On one side of the exhibition the artist presents paintings with a focus on flight across the seas;
"The boats with people – often families – fleeing war to something better, a future, a dream of peace and freedom.
Focus is on the children, holding their teddy bears that mean so much to them. The girl is holding her teddy bear overboard. Will she drop it or will she hold on?"
The inspiration behind the paintings derive from the artist's own background, when her father in his teenage years fled Estonia in 1944 together with his parents.
Vivianne create the paintings as a memory to her father and to everyone who fled during World War II – to the ones who arrived as well as to those who never made it.
On the other side of the exhibition are Vivianne's paintings where different animals, often birds with a comical twist, meets the onlooker;
…"The idea to the painting came to me when travelling on the train to Gothenburg. In my headphones the song 'Going loco in Acapulco' with The Four Tops played.
Immediately I saw herons going loco in Acapulco…"
In these light-hearted paintings the heron has long been a central character, and as a symbol of renewal, rebirth, feminine energy, messenger of new eras and with its amusing expression, has a great influence on the artist, which she points out in the painting 'Manhattan'; "If the Statue of Liberty had been a bird she would have been a heron."
Lately the pied avocets has appeared on Vivianne's art scene – a memory from the artist's childhood summers with her mother's family on Gotland and trips to Fårö.
Common for these birds is that they are never depicted perfectly, but always in the artist's "own way", where the inspiration from Pablo Picasso's cubistic paintings come through;
"Picasso was one of my first inspirational sources and on my 10th birthday I received a voluminous Picasso book from my father."
Despite the contrasts between the paintings there is more than one red thread which runs through the exhibition, combining Viviannes artworks.
Partly the exhibition title; 'Mot ny destination' ('Towards a new destination'), with its double meaning relating both to the human journeys across the seas searching for a new life, and to the birds' migrations occuring each year.
Also the Joy, where the unreserved joy in the artist's bird and animal motifs contrast to the more atmospheric flight scenes.
Even in these touching flight motifs the artist succeeds in mediating a great sense of hope as the families sail towards new goals;
"There is a pronounced contrast in the artworks.
The more sincere, escape motifs, still has a hope and a bright future where one hopes to meet the boats and the people in them.
The art in the exhibition has a balance between humor and gravity."
2022-09-03T02:00:00+02:00

-

2022-10-01T02:00:00+02:00